Automotive Ethernet Testing
Automotive Ethernet is paving the way for intelligent, autonomous and connected vehicles. Aukua's test solutions help verify system integrity and reliability, characterize latency, perform functional and negative sting, capture packets to speed up troubleshooting, and verify end to end performance under real-world conditions.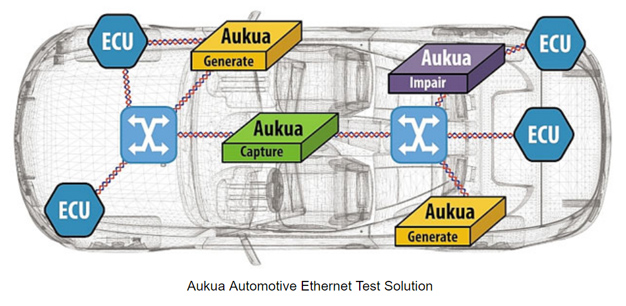 Consumers are demanding smarter, safer and more connected vehicles. The pressure to deliver these advanced infotainment, collision avoidance and driver assistance features while maintaining costs has created a tremendous challenge. In pursuit of these new bandwidth hungry and latency sensitive devices or applications, the automotive industry is moving rapidly to adopt Ethernet's scalable and flexible networking technology. Aukua Systems is working with leading automotive semiconductor companies, Tier 1 suppliers and OEM Manufacturers to develop new test tools to help them get to market faster, with less risk and with more robust and competitive products.
Aukua's 3-In-1 Automotive Ethernet Testing Solutions
The Aukua MGA2510 platform supports three tools in one with the ability to be an end-point traffic generator, an inline analyser for packet capture and visibility, or as an Inline network impairment emulator for limiting bandwidth, inserting delay and adding impairments to verify applications are robust enough to handle real-world automotive network conditions.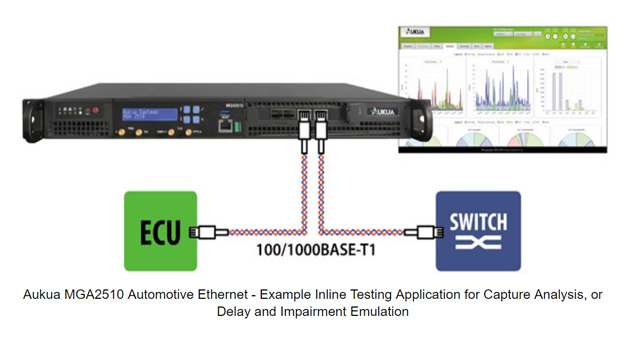 Link in the website
https://www.aukua.com/solutions/automotive.html
Features:
100BASE-T1 (IEEE 802.3bw), 1000BASE-T1 (IEEE 802.3bp) interface rates Precisely Characterize Latency with 1ns precision Inline packet capture and Layer 1 PCS bit capture tools with powerful filter and trigger features Bit Error Rate Testing Create real-world delay, bandwidth limit and impairment conditions Real-time stats and graphical analysis
New Protocol Support:(Standard and Automotive Ethernet): New mixed media modes have been added for Automotive Ethernet users ("100BASE-T/-T1", "1000BASE-T/-T1"). These new speed settings allow the MGA2510 to become a 'media converter', with one port operating in traditional BASE-T while the other port operates in Automotive Ethernet 100/1000 BASE-T1
New Interface Speeds (10BASE-TX, 100BASE-T1):Support for 10BASE-TX and Automotive Ethernet 100BASE-T1 interface speeds has been added.