Latest Events

PIKETEC TPT Experts in India (Bengaluru, Chennai, and Pune)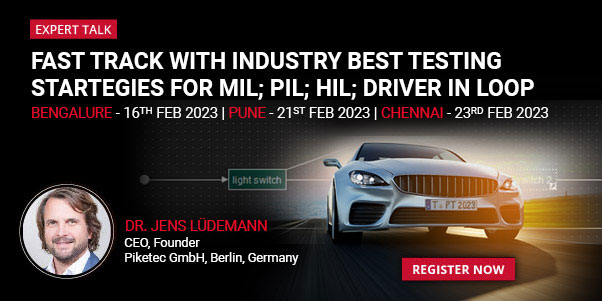 PIKETEC TPT Experts in India
Embedded Systems Solutions, ESS, a leading provider of embedded software and hardware solutions, is extremely excited and happy to announce a multi-city roadshow with PIKETEC (TPT) Experts in Bengaluru (16th Feb 2023), Pune (21st Feb 2023) and Chennai (23rd Feb 2023).

The TPT Expert, Dr Jens Lüdemann, will share his experience and knowledge about robust test strategies that guarantee high quality, reliable and safety certifiable software. He will discuss his recommendations on the importance of early testing, traceable test plans for every single test object across all development stages, diverse test data and maximum test coverage. He will speak about important testing strategies for different test levels (MIL, SIL, PIL, HIL, Vehicle). In the sessions we will also discuss how these aspects are greatly simplified with TPT Test Software. Other very pertinent topics like testing AUTOSAR based systems and testing temporal behaviour of systems relevant to ADAS systems will also be discussed.

These sessions are intended to bring together automotive software experts -technical leaders, engineering managers, product owners, decision-makers– to discuss the latest trends in world of automotive software. With automotive software becoming increasingly technologically advanced, highly sophisticated, and complex, it is imperative that software providers focus on highly reliable development, verification, and validation methodologies, software quality, software maturity, and readiness for safety certifications.

The sessions will also provide a forum for automotive experts to convene and discuss trends/advancements, challenges, share ideas, network, and discover best practices for developing best of class automotive software.

We welcome you to attend these sessions in person. Being an important member of your organization, leading the software development and testing initiatives, we believe these sessions would be of value to you.

These sessions are free and invite only. The dates, schedule, venue, and agenda details are as follows. The sessions will conclude with a complimentary lunch.

Kindly register at the earliest. Limited seats available!
City
Day, Date and Time
Venue
Bangalore
Thursday - 16 Feb 2023
9.00 AM - 1.00 PM
*Followed by Lunch
World Trade Center Bengaluru
No.401, 4th Floor, Brigade Gateway Campus,
Dr. Rajkumar Road, Malleswaram West,
Bengaluru - 560 055,
Hall Name: MARS II
www.wtcbengaluru.org
Google Map
Pune
Tuesday - 21 Feb 2023
9.00 AM - 1.00 PM
*Followed by Lunch
Sheraton Grand Pune Bund Garden Hotel
Raja Bahadur Mill Road,
Sangamvadi, Pune - 411001
Hall Name: Sovereign
Sheraton Grand Pune
Google Map
Chennai
Thursday - 23 Feb 2023
9.00 AM - 1.00 PM
*Followed by Lunch
Le Royal Meridien Chennai
#1, GST Road, St. Thomas Mount,
Chennai - 600 016
Hall Name: Dharanibr
Le Royal Meridien Chennai
Google Map
Who Should Attend?
Product Owners delivering Technologically Advanced, Sophisticated and Critical Automotive Solutions.
Technical Experts using SIL, MIL, PIL, HIL for Automotive Software Development.
Engineering Leaders Deploying ASPICE Model for Software Development.
Project Managers responsible for Functional, System and Regression Testing.
Safety Auditors & Specialists Supervising ISO 26262 standard implementation

For more information contact :
ESA Sales Team
Phone:
+91 9108632175, 98454 03264
Landline No.:
(91) 80 6764 8831/32/36
Email:
sales@esaindia.com
Learn More