Latest Events

PIKETEC TPT trainings in India (Bengaluru, Chennai, and Pune)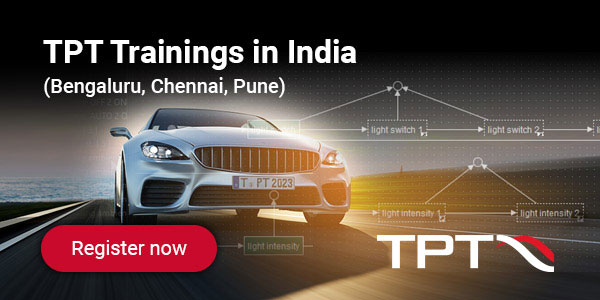 PIKETEC TPT Makes Test Automation Easy!
Embedded Systems Solutions, ESS, a leading provider of embedded software and hardware solutions, is excited to announce a series of in person technical trainings from our partner PIKETEC (TPT Testing Solutions) in Bengaluru (16th Feb 2023), Pune (21st Feb 2023) and Chennai (23rd Feb 2023).

PIKETEC's tool TPT is a complete, holistic, fully integrated testing solution. With TPT, developers can test ECU software and embedded control systems in all development phases such as Model-in-the-loop (MiL testing), Software-in-the-loop (SiL testing), Processor-in-the-loop (PiL testing), Hardware-in-the-loop (HiL testing), ECU testing and vehicle testing. Whether it is to create a simple module test or a complex system test: TPT provides unique features to create those tests intuitively and flexibly.

The training will be three hours long and will be conducted in following venues. An evaluation license, handouts and hands-on exercises will be provided as part of the training. All attendees will need to carry their laptops with the evaluation licenses installed.
PIKETEC TPT In Person Technical Trainings
City
Day, Date and Time
Venue
Bangalore
Thursday - 16 Feb 2023
2.00 PM - 5.00 PM
World Trade Center Bengaluru
No.401, 4th Floor, Brigade Gateway Campus,
Dr. Rajkumar Road, Malleswaram West,
Bengaluru - 560 055,
Hall Name: MARS II
www.wtcbengaluru.org
Google Map
Pune
Tuesday - 21 Feb 2023
2.00 PM - 5.00 PM
Sheraton Grand Pune Bund Garden Hotel
Raja Bahadur Mill Road,
Sangamvadi, Pune - 411001
Hall Name: Sovereign
Sheraton Grand Pune
Google Map
Chennai
Thursday - 23 Feb 2023
2.00 PM - 5.00 PM
Le Royal Meridien Chennai
#1, GST Road, St. Thomas Mount,
Chennai - 600 016
Hall Name: Dharanibr
Le Royal Meridien Chennai
Google Map
Who Should Attend?
Automotive and Control Systems Embedded Engineers using MBD
Engineers working on Functional, System and Regression Testing
Engineers working on test cases for Simulink models, TargetLink models, AUTOSAR SWCs and C-Code
Engineers working on SIL, MIL, PIL, HIL Testing
Safety Engineers Supervising ISO 26262 standard implementation

For more information contact :
ESA Sales Team
Phone:
+91 9108632175, 98454 03264
Landline No.:
(91) 80 6764 8831/32/36
Email:
sales@esaindia.com
Learn More