Integrated Services and Consultancy (ISC), a ESA Group Company, is a leading provider of electronic test and measuring instruments for industry and educational institutions since 1993. ISC has a team of highly competent professionals who have excellent experience in building laboratory work benches both for academia and industry.
ISC provides high precision electrical Test & Measuring Instruments from Good Will Instrument, GW INSTEK,Taiwan. GW INSTEK is a global reputed brand well known for quality, reliability, performance and innovation. It provides high quality yet economical measurement solutions for the educational and industrial manufacturing sectors alike.
Our products are being used in reputed private, government and deemed universities. These include institutions like IITs, NITs, IIITs, IISc, IISERs, BITS etc. All GW INSTEK products adhere to ISO quality and environmental management standards, as well as European CE safety regulations that are globally trusted. ISC also provides exceptional after sales support, technical training, calibration services and comprehensive maintenance/service support.
Proposed Laboratory Solutions
| | | |
| --- | --- | --- |
| Engineering Laboratory | Lab Bench Requirement | Proposed GW INSTEK Solution |
| Electronics Labs | Power Supply Function Generator/AFG Digital Oscilloscope Digital Multimeter | Multi O/P DC Power Supply: GPE-4323 3MHz DDS Function Generator:SFG-1013/5MHZ Arbitrary Function Generator: AFG-2005 50MHz 2-Ch Digital Storage Oscilloscope: GDS-1052U Bench Top DMM: GDM-8341 |
| Electrical Labs | Power Supply Oscilloscope Digital Multimeter LCR Meter | Multi O/P DC Power Supply: GPE-4323 30MHz Analog Oscilloscope:GOS-630FC Bench Top Digital Multi Meter: GDM-8341 Hand-held/Bench Top LCR Meter: LCR-914/LCR-6002 |
| Power Electronics Lab | Digital Oscilloscope (for Power Analysis) Digital Multimeter | 150MHz 4-CH DSO with Power Analysis S/W+ Diff Probe + Current Probe: GDS-3154+DS3-PWR +GDP-025+GCP-05 5.5 Digit Bench Top Digital Multi Meter: GDM-8351 |
| Mechatronics Labs | Leakage Tester Insulation Resistance Tester Clamp Meter LCR Meter | Leakage Current Tester: GLC-9000 AC/IR Tester: GPT-9612 AC/DC Clamp Meter: GCM-403 Bench Top LCR Meter,2KHz: LCR-6002 |
| RF Microwave & Wireless Communication | Digital Oscilloscope Spectrum Analyzer Signal Generator Audio Generator | 50MHz 4-CH DSO: GDS-1054B / 70MHz 4-CH DSO: GDS-1074B 3GHz Spectrum Analyzer with Tracking Generator: GSP-830+TG Basic 3GHz Spectrum Analyzer with RF Training Kit : GSP-730+GRF-1300A PC Based RF Generator : USG LF-44 1MHz Audio Generator: GAG-809/GAG-810 |
| Embedded Systems Labs and Digital Signal Processing Labs | Power Supply Mixed Signal Oscilloscope Function Generator | Multi O/P DC Power Supply: Prog/Normal: GPD-4303S/GPE-4323 70MHz, 2-Ch/4-Ch DSO with 8-CH Logic Analyzer & Training Kit: GDS-2072A/GDS-2074A+DS2-08LA+GDB-03 5MHz Arbitrary Function Generator: AFG-2005 / 25MHz Dual Ch AFG: AFG-2225 |
| EMI/EMC LAB | Tracking Generator EMC Pretest & EMI Probe Kit | 3.25GHz Spectrum Analyzer with Tracking Generator with Built-in EMC Pretest Mode: GSP-9330 EMI KIT: GKT-008 |
Basic Engineering Test Lab Bench
30MHz 30 MHz Analog Oscilloscope with Frequency Counter
50MHz Digital Storage Oscilloscope with Limited Life Time Warranty
3MHz DDS FG
Multiple O/P DC Power Supply
50000 Counts Dual Display DMM
Hand-held LCR Meter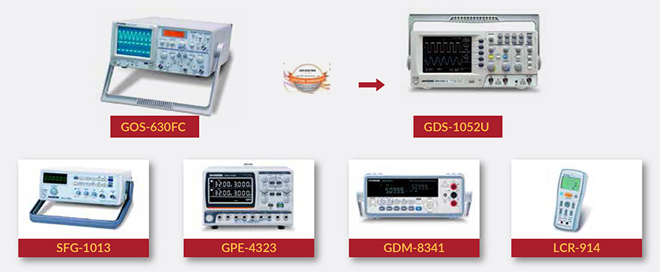 Advanced Engineering Test Lab Bench
70MHz DSO with MSO /LA /AFG/DDS FG/GDB-03 Options to work as MSO
70MHz Digital Storage Oscilloscope with 4-CH I/P, 7"Display
Arbitrary Function Generator with AM/FM/Sweep/Counter
Multiple O/P Programmable DC Power Supply
5 ½ Digits Dual Display DMM
Bench-top Precision LCR Meter
3GHz High end- Spectrum Analyzer with Tracking Generator
3GHz Basic Spectrum Analyzer with RF Training Kit & USB based R Generator